Rookie Revolution: Standout Newcomers Making Waves This Season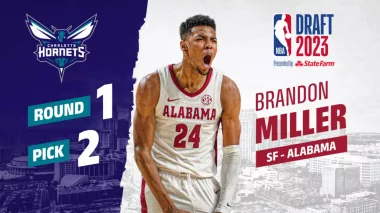 In the fast-paced world of professional basketball, each season brings forth a fresh crop of talent ready to leave their mark on the NBA. These new players in the NBA, often referred to as rookies, enter the league with excitement and anticipation, hoping to make their presence felt on the hardwood. The 2023 NBA season has been no exception, as a remarkable group of rookies has emerged as true game-changers, captivating fans and pundits alike with their extraordinary skills and unwavering determination.
As we delve into the Rookie Revolution of the current NBA season, we'll spotlight the standout new players in the NBA who have already made waves and appear poised for a bright future in the league.
Top 4 Newcomers this NBA Season
From electrifying point guards to dominant big men, these rookies have caught the attention of die-hard basketball enthusiasts and brought fresh energy to their respective teams:
Brandon Miller
Brandon Miller, the 6-foot-9 small forward hailing from Alabama, embodies the coveted archetype of long-wing scorers highly valued in the NBA. As a former five-star recruit, he significantly impacted his freshman season. He led all freshmen in scoring while guiding Alabama to the SEC regular season and SEC Tournament championships, culminating in a No. 1 seed in the NCAA Tournament. Miller's strengths include his outstanding shooting prowess, both from long range and in terms of floor spacing, and his ability to create and handle the ball effectively.
source: https://www.poundingtherock.com/2023/5/8/23714838/2023-draft-prospect-profile-brandon-miller
His lengthy frame, coupled with an impressive wingspan, positions him as a dependable wing defender. However, he encounters challenges when finishing around the rim and occasionally grapples with turnovers. A pro comparison parallels the playmaking style of Jabari Smith Jr. Notable statistics include leading the SEC in points per game and boasting a 38.4% three-point shooting percentage.
Victor Wembanyama
Victor Wembanyama, the towering 7-foot-4 center of Mets 92, has long been regarded as one of the most promising basketball talents globally. During the Pro A regular season, he emerged as his team's top scorer, rebounder, and shot-blocker, showcasing an exceptional blend of size, skill, and defensive prowess that places him at the forefront of the 2023 class, drawing comparisons to legends like LeBron James. Wembanyama's strengths encompass impressive ball-handling abilities for his size, outstanding defensive skills marked by agility and shot-blocking prowess, and a proficient shooting game extending beyond the three-point line.
source: https://en.wikipedia.org/wiki/Victor_Wembanyama
However, there are concerns about his slender physique enduring an 82-game NBA season, occasional issues with turnovers and fouls due to overexertion, and a penchant for unconventional shots, even though they often find the target. In terms of player comparison, Victor Wembanyama combines Kristaps Porzingis' length and shooting with Rudy Gobert's shot-blocking ability. Noteworthy accomplishments for Wembanyama include leading LNB Pro A in scoring, rebounding, and blocked shots, earning two-time LNB Pro A All-Star honors, and being named the All-Star Game MVP in the 2022-23 season.
Scoot Henderson
Scoot Henderson, the 6-foot-2 point guard from Marietta, Georgia, and a product of the G League Ignite program has transformed into a top-tier prospect in the 2023 class. His competitive nature, athleticism, and playmaking skills make him an enticing option as a franchise-caliber lead guard. Henderson's strengths encompass his competitive spirit and fearlessness, a strong driving game to the basket, nimble ball-handling capabilities for facilitating for teammates, and efficient scoring abilities around the rim.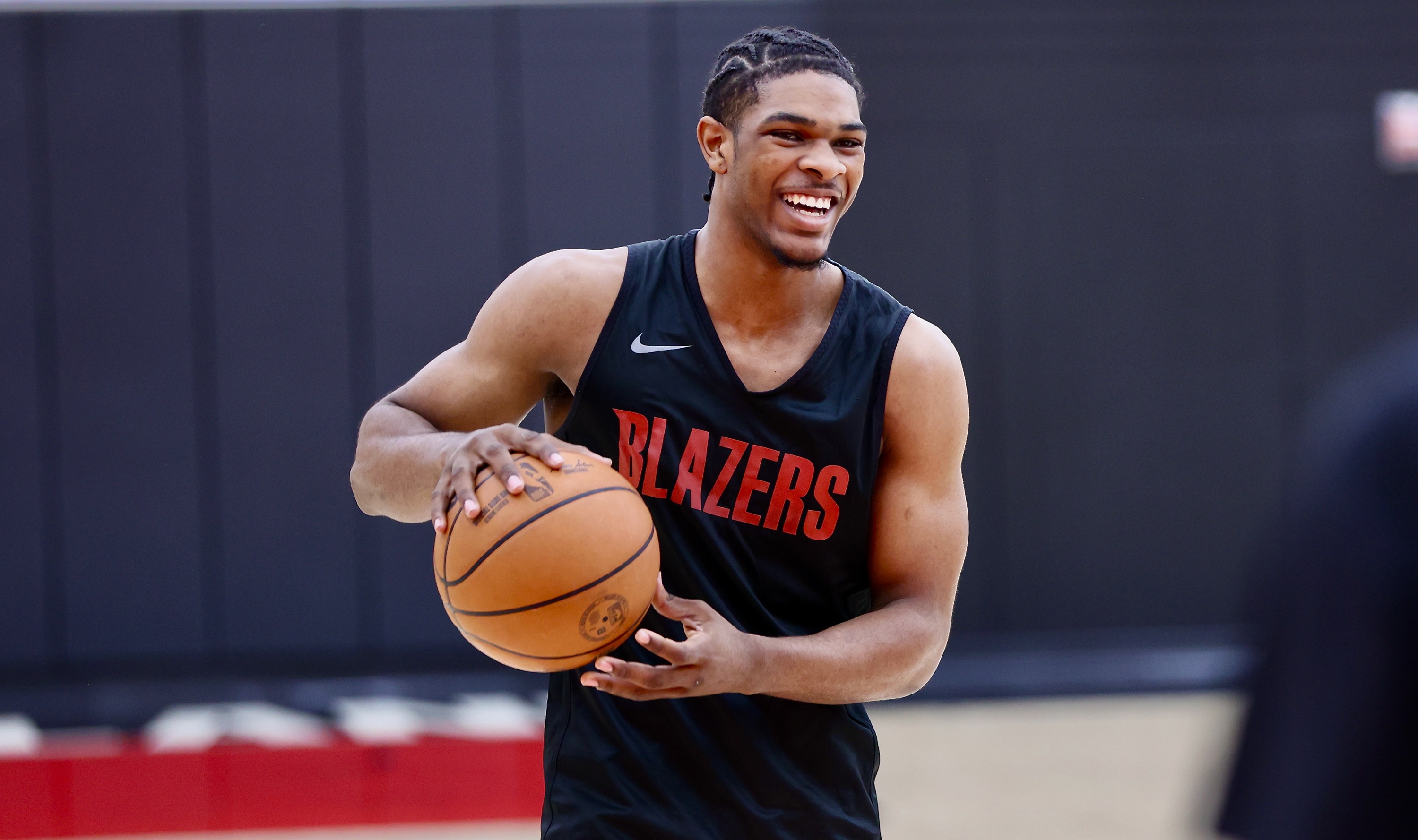 source: https://www.nba.com/blazers/news/scoot-henderson-makes-his-case-during-workout-in-portland
Nonetheless, he faces challenges regarding his three-point shooting, limited defensive versatility, and the need for improvement in catch-and-shoot situations. Scoot Henderson's playing style draws comparisons to Collin Sexton. Notable statistics for Henderson highlight his leadership in scoring, steals, and assists for G League Ignite in the 2022-23 season, along with his shooting percentages across various jump-shot categories.
Amen Thompson
Amen Thompson, the 6-foot-7 point guard representing Overtime Elite, is a dynamic playmaker known for his explosive athleticism. His lengthy frame and skill set make him a promising prospect, and he shares the draft spotlight with his twin brother, Ausar Thompson. Amen's strengths lie in his exceptional athleticism, which combines size and leaping ability rarely seen in a point guard prospect, his quick and elusive stop-and-start movements, and his knack for making advanced reads as a playmaker and facilitator.
source: https://www.nba.com/watch/video/no-4-overall-pick-amen-thompson-gets-his-first-summer-league-bucket
On the flip side, he can be prone to turnovers due to his attempts to force passes into tight spaces, and while his jump shot has improved, it still requires further development. There are also questions about the level of competition he faced in Overtime Elite and how it will impact his NBA projection. Amen Thompson's playing style draws comparisons to Dejounte Murray. Key statistics for Thompson include his three-point shooting percentage and his contributions in assists during Overtime Elite playoffs, where he played a pivotal role in leading the City Reapers to a championship.
How to Catch These Rising Stars in Action?
As a leading platform in the NBA streaming arena, we understand fans' excitement for the standout new players in the league. Witnessing their incredible progress throughout the season is necessary for any true basketball enthusiast. Thanks to modern technology, we've made it incredibly easy for you to stay connected with all the action, even if you can't make it to the arena.
Our platform offers a convenient solution to stream NBA games online. With numerous live-streaming services, you can enjoy the games from the comfort of your home or while on the move. While some of these services may require subscriptions, we've got you covered if you want a free option – welcome to Rnbastreams.com.
Rnbastreams has emerged as a trusted and reliable source for streaming NBA games without any cost involved. We're here to provide fans with an accessible and hassle-free way to keep tabs on their favorite teams and players, including those electrifying new talents that we've spotlighted in this article. Join us, and never miss a moment of the NBA excitement!
Frequently Asked Questions
Who are some notable NBA player comparisons for these prospects?
Victor Wembanyama draws comparisons to a combination of Kristaps Porzingis and Rudy Gobert. Scoot Henderson's style is likened to Collin Sexton, while Cam Whitmore's game is compared to Miles Bridges. Ausar Thompson shares a playing style comparison with Dejounte Murray.
Which prospect led their respective leagues or conferences in statistical categories during the 2022-23 season?
Victor Wembanyama led the LNB Pro A in scoring, rebounding, and blocked shots, while Scoot Henderson led G League Ignite in scoring, steals, and assists. These accomplishments showcase their dominance in their respective leagues.
How do these prospects project in the NBA?
NBA projections for these prospects depend on various factors, including their development, adaptability to the NBA style of play, and how they address their weaknesses. Many have the potential to make a significant impact in the league.
Conclusion
In conclusion, the 2023 NBA season has witnessed a Rookie Revolution, with talented new players in the NBA significantly impacting their teams and the league. To stay connected with their journeys and enjoy their games, check out Rnbastreams.com for free NBA game streaming. It's a fantastic way to witness the rise of the next generation of basketball stars.